---
---
♥ Multi-function Nail Drill: 5 in 1, professional for nail artists. Multiple coarseness for your manicure machine: 3XC, XXC, XC,C ( Coarse), M ( Middle), F ( Fine), XF, and XXF. From 3XC to XXF, the coarseness is from big to fine. Made of Tungsten Steel, high hardness, long term life. Shank: 3/32" (2.35 mm).

♥ Cross Teeth Edition: Teeth lines cross with each other, creat a concentrated teeth net to polish the nails.

♥ 2 Rotate Direction: It's suitable for right handed nail artists, and also for left handed. And meantime, 2 directions for choose in different situation.

♥ Different sizes of coarseness on the surface of drill: From top to the base of drill, the coarseness changes from fine ,to middle, to coarse. You don't need to change another drill for different size during working.

♥ Teeth on the top of drill: could be used for clean dead skin or cuticle.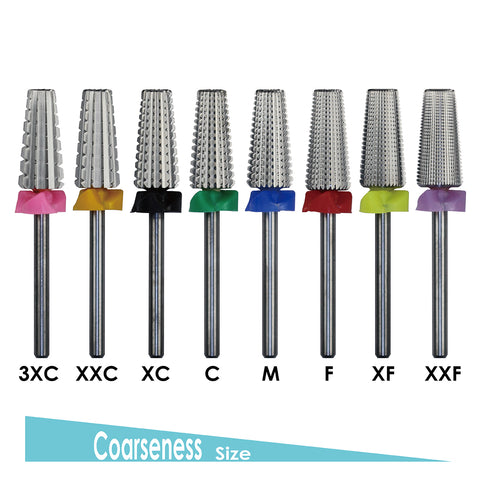 ---